News & Updates
American Fire Equipment Named a Winner of the Arizona Top Workplaces 2021 Award by AZ Central
Jul 11, 2021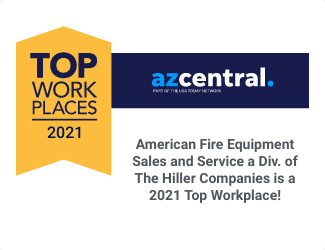 Phoenix, Arizona, July 11, 2021 – American Fire Equipment (AFE), a division of The Hiller Companies, is thrilled to announce it has been awarded a Top Workplaces 2021 honor by AZ Central.
"Being named a Top Workplace in Arizona is a great achievement for us, especially since it comes from the employees," AFE General Manager Mark Murrell said. "This past year has been a real challenge for everyone, and to have the support and positive feedback from our people is something special."
The list is based solely on employee feedback gathered through a third-party survey administered by employee engagement technology partner Energage LLC. The anonymous survey uniquely measures 15 culture drivers that are critical to the success of any organization, including alignment, execution, and connection, just to name a few.
"During this very challenging time, Top Workplaces has proven to be a beacon of light for organizations, as well as a sign of resiliency and strong business performance," said Eric Rubino, Energage CEO. "When you give your employees a voice, you come together to navigate challenges and shape your path forward. Top Workplaces draw on real-time insights into what works best for their organization, so they can make informed decisions that have a positive impact on their people and their business."