News & Updates
Herbert S. Hiller Partners with the National WWII Museum to Restore PT-305
May 30, 2018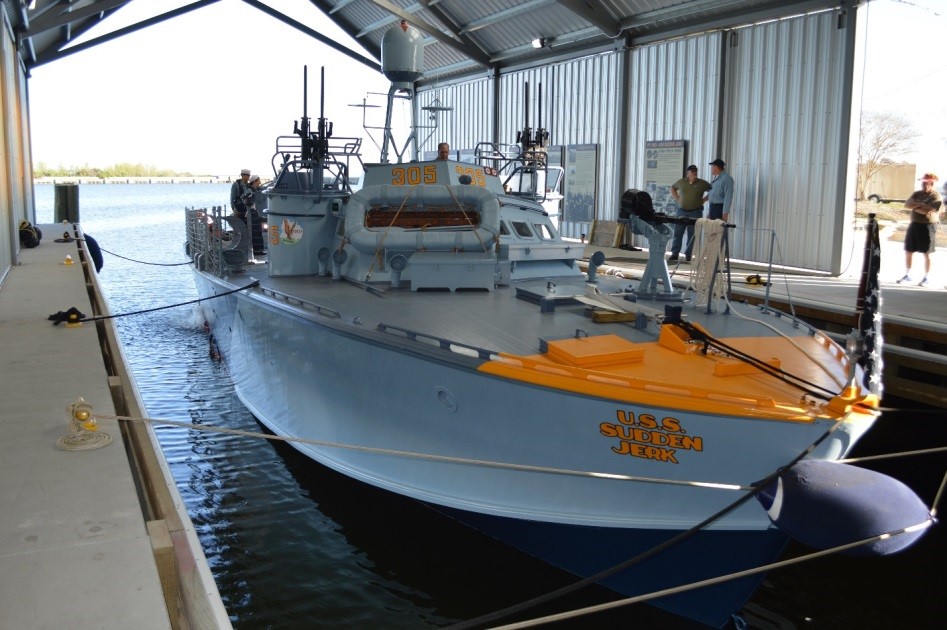 It is in the mid-1940's, we were in the middle of World War II. The United States Navy was in need of small boats that could move in fast against the enemy. The PT-305 was part of a new class of vessels in the war; a light, swift and aggressive hunter. Patrol Torpedo (PT) boats went where larger ships could not, patrolling enemy-held coastlines at night, launching attacks on enemy shipping, then vanishing into the darkness.
PT boats built by Higgins Industries of New Orleans were made of wood: spruce ribs, pine keel, and a mahogany hull. Three powerful Packard engines gave them a top speed of over 40 knots. Carrying torpedoes, machine guns, and a cannon, PTs were pound for pound, the heaviest armed craft in the US Navy.
On March 30, 1943, the keel was laid for PT-305, "Sudden Jerk." She launched on May 27th and was commissioned into Motor Torpedo Boat Squadron 22 on December 8, 1943. The next six weeks were spent testing PT-305 on Lake Pontchartrain before shakedown in Miami. In April, she was loaded onto an oil tanker in Norfolk, VA, for shipment across the Atlantic to the Mediterranean Theatre. During her war days, she was responsible for sinking three enemy vessels.
She was purchased by the National WWII Museum and returned to New Orleans in April 2007. After ten years and more than 120,000 volunteer hours, the PT-305, "Sudden Jerk", has been completely restored to her late 1944 appearance and is fully operational.
Herbert S. Hiller reached out to a few of our dedicated suppliers. We supplied the engine room CO2 fire suppression system, portable fire extinguishers, fire hose, and nozzle. Hiller donated the engineering, field labor, and pipe and fittings required to install and certify these systems.
To find out more about the PT-305 and the National WWII Museum in New Orleans, visit their website.