News & Updates
Hiller Comes Together for New Orleans Branch After Hurricane Ida
Sep 20, 2021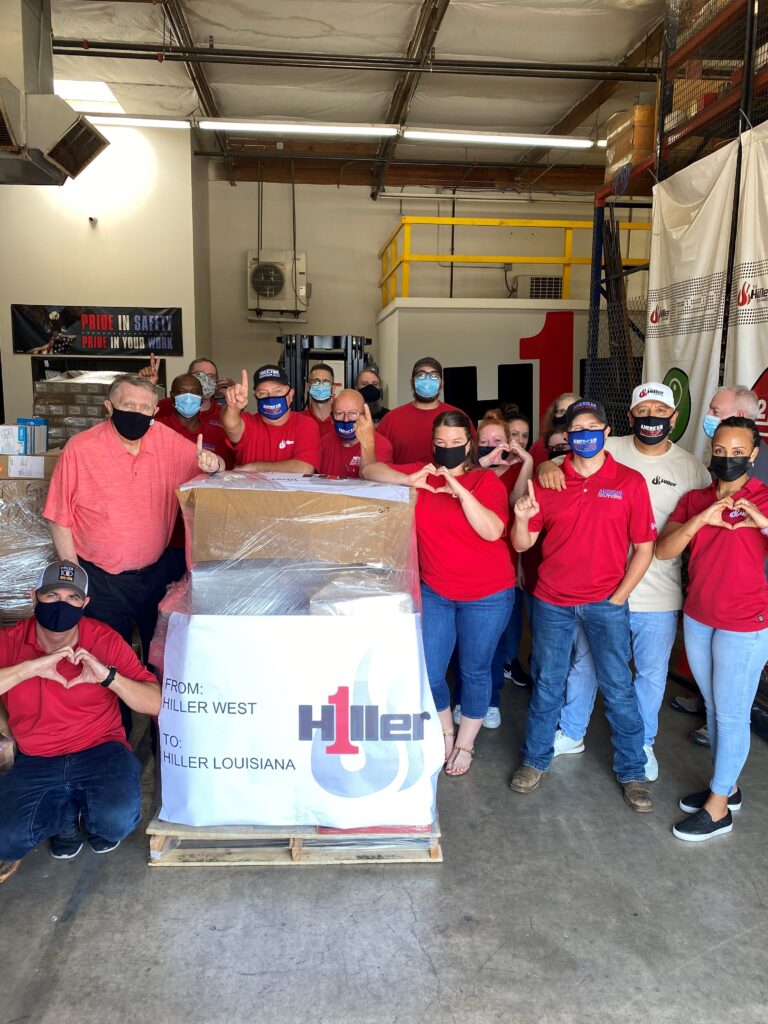 This has been a year of challenges across the country on multiple fronts, and Hiller has not been immune. The silver lining for Hiller and its employees has been seeing the Hiller team come together to help each other. As you know, Hurricane Ida wreaked havoc on the Gulf Coast and was particularly devastating for Hiller New Orleans. In true Hiller form, branches across the country pooled their resources to help those affected begin recovering as quickly as possible.
Hiller branches and divisions sprang into action the day after the storm hit. Hiller Corporate brought a building generator to the New Orleans office so that it could be used as a respite for those without power. Employees gathered to find a cool space, and the kitchen was used to provide hot meals. Branches around the country sent supplies including:
Roughly 9 pallets of bottled water
Numerous generators for employees to use at home
1000ss of gallons of gas
Countless bags of ice
Food and drinks of all types
Tarps, nails, gloves, etc. for repairs
Cleaning supplies including sanitizers, bleach, paper towels and trash bags
Flashlights & batteries
Today, things are relatively back to normal business at the workplace. On the home front, many employees sustained minor damage with others seeing more severe damage, so people are still working with insurance companies and hiring contractors to make repairs and/or rebuild as necessary.

Hiller New Orleans Marine Project Manager Chris Krider was moved by the support from his Hiller family.

"The support we received right after was awe-inspiring. Many members of my family were shocked at the rapid response and to the extent that the company provided support to the employees here," he said. "And after receiving support just days after the storm, we continued to receive support for weeks afterward. This meant a lot to us that the company supported their employees and showed the generosity they did during our time of need. Many other companies in the area did not support their employees in the same manner that Hiller did."
Tara Pitre, Herbert S. Hiller's inside sales manager, echoed Chris' sentiments.
"We are grateful for the generosity of our donors from every office. It is truly a blessing to work for such a wonderful company as Hiller" she said. "They went above and beyond any of our expectations. Not only did they help us, but they also helped our families, customers and so many others. They have no idea how many lives they have touched."
Chris, Tara and the Hiller New Orleans branch would like to thank the corporate office for coordinating efforts.
"A big thank you from all of Hiller New Orleans to those in Corporate that made all of this happen along with all the branches that contributed," Chris said and Tara reiterated. "I'm sure there were many more behind the scenes, but I'd like to say a special thank you to Frankie Martin, Marcus Porter, Jason Bedsole, Robert Hunter, Simon Thornton and John Cocke for their support in either delivering or coordinating deliveries of supplies to us."