News & Updates
Hiller's Year Long Celebration of its 100th Anniversary Continues at the Virginia Branch
Nov 1, 2019
Norfolk, VA – On October 2, 2019, The Hiller Companies continued its 100th anniversary celebration in Norfolk with a high-energy party designed to appreciate the past while looking to Hiller's strong future of continued growth and opportunity. Virginia, one of Hiller's largest branches, exemplifies the strong connection to the marine industry which is demonstrated by the fact that Hiller systems are on every single naval combatant ship in the fleet.
"Hiller is part of the fabric of the Norfolk community," Vice President and General Manager of the Marine Division in Virginia Mark Herzog said. "Around here, people are very tuned in to what we do. With the massive military presence here, I would say probably 25 percent of our employees are retired or former military members."
In planning the celebration, Herzog learned of a story of someone who was working as a part of the entertainment for the event. This man was former military, and when he realized that Hiller was throwing the party, he relayed how he was on a ship in the Navy and a Hiller system saved his life.
"It is important to recognize the impact Hiller has not only on the fire protection industry as a whole, but also on the communities we support," Herzog said. "We were excited to host a celebration that focused on the future and what's to come for Hiller and for our branch."
Herzog started the Virginia Branch in 1985 after working with Walter Kidde. He has been a fixture there, and is an ten-time recipient of the internal Manager of the Year trophy. He is known for his effective team development and ability to recognize potential for growth.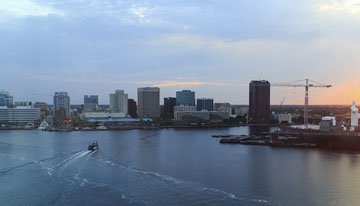 Herzog noted that his background is marine fire protection, and he was able to assemble a team to take a hard push at the marine market in Norfolk. The number of employees grew from one to 115 during the last 34 years. Over time, he also added Commercial and Industrial, Special Hazards, Sprinklers, Security and Access and CCTV Cameras.
"Many of these markets developed organically," he said. "Often, an employee would walk in the door with a specialty or skill and we would make the best use of that. Keeping an open mind to talent that presents itself is a key to growing and becoming more successful."
General Manager of the Commercial and Industrial Division, Belinda Arthur, was one of the talents Herzog added to the Hiller team in 1995.
"I was brought on as a sales manager, and I was the only one on the sales team," she said. "I was basically a sales manager of myself. Now, we have a team of seven outside sales people, three inside sales people and 2 estimators."
Arthur believes the customer base was ripe for growth at the time she started with Hiller.
"At that time, many customers had multiple fire protection vendors they had to manage – one for inspections, one for repairs, one for fire extinguishers, etc. We began to bill ourselves as their one-stop-shop. I think many customers were happy to be able to call one company and get everything they needed. That was really a key element of what helped us grow."
Herzog credits Arthur, who was just named Hiller's 2019 General Manager of the year, with the Virginia branch's ability to grow and become so successful. He said that her strong background in sales and in the commercial and industrial markets helped the department take off.
Both Herzog and Arthur agree, the biggest reason for the celebration of Hiller's 100th Anniversary is because of the employees.
"We were excited about the party because it was all about the employees and showing them our appreciation," Herzog said. "We wanted to recognize all of the employees who have continued the tradition and great reputation of The Hiller Companies."
Arthur couldn't have agreed more.
"The 100-year-celebration is about our people. We provide value to our customers, and that comes straight from our employees," she said and then addressed the future. "We are a 100-year-old company, but we don't act like one. Some companies that reach this point get settled and comfortable where they are. We are not those companies. I am excited we celebrated the first 100 years, but I am more excited about the next 100 years. We will continue to focus on growing while maintaining our foundation of customer-focused service."