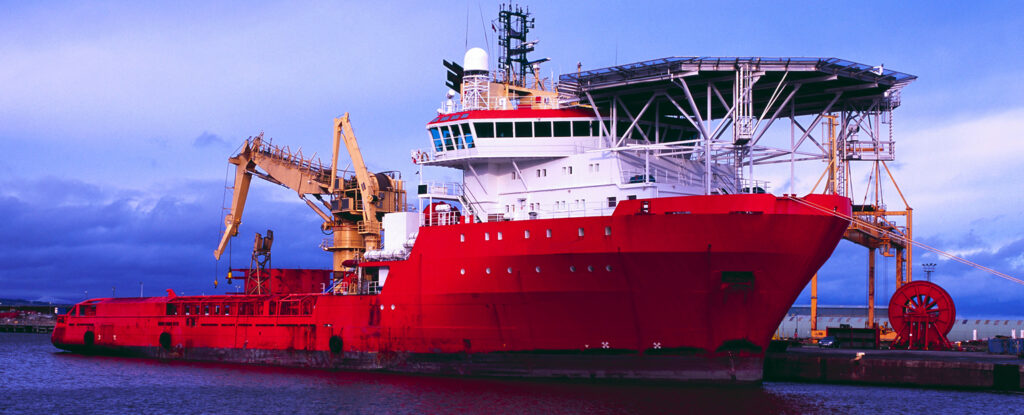 A full service fire protection and security solutions provider, The Hiller Companies provides an extensive range of marine fire protection offerings to protect people and property within marine and offshore environments all around the world. Our experienced engineers and technicians will seamlessly manage the design, engineering, installation, service and maintenance of your customized fire detection and suppression system. Included below are some documents with more detail.
Marine Fire Protection Engineering & Hazard Analysis
Analyzing fire hazards to design the right system for the unique needs of marine customers is a challenging task. There is no one-size-fits-all approach. The Hiller Companies has decades of experience working on all types of marine hazards. This experience allows Hiller to analyze individual hazards and engineer customized fire prevention, detection and suppression systems that meet the specialized challenges of marine customers. We work with naval architects, marine engineering consultants and owners/operators to determine the most cost-effective approach providing for both life safety and equipment protection while meeting the applicable regulations. Hiller can provide full system design and engineering, installation of equipment and ongoing maintenance and support.
Water Mist Systems
At Hiller, our mission is to minimize your downtime while protecting your assets. In order to provide the most efficient and safe fire protection on the water, Hiller provides state-of-the-art water mist protection technology. Approved for marine use, Hiller Water Mist, a Securiplex technology, uses a fraction of the water used by conventional sprinklers and is well suited for the protection of a wide range of marine hazards. Reduced post-discharge damage and clean up as well as simple recharge provide for less downtime, while clean and green technology poses no risk to your crew and assets. Hiller Water Mist is cost effective and provides the most protection of your personnel, equipment and productivity. Our state-of-the-art systems provide the performance, efficiency and reliability needed to ensure that your people, equipment and operations remain safe and productive. Government testing has proven that our systems surpass all other major manufacturers in extinguishment times for marine fire protection.
Marine Foam Systems
The Hiller Companies' foam system expertise ranges from small commercial systems to military specification systems. Through a wide range of options for foam products and delivery systems, Hiller can customize foam fire suppression systems that are highly effective against a variety of fire hazards and are suitable for fire extinguishment on deck and below deck – from flight decks and hangars to bilges. We offer high-expansion foam systems as well as aqueous film forming foams (AFFFs), and can comply with commercial marine fire protection standards (USCG & IMO/SOLAS) and US Navy military specifications. Hiller's designs, systems and products work to provide optimal fire suppression to protect any asset, on-shore, off-shore, or marine based.
Gaseous Agent Fire Suppression Systems
From clean agents and CO2 for new installations to the replacement of existing Halon systems, gaseous systems are very effective for machinery spaces and other hazards. Available for total flood applications as well as local applications as appropriate, Hiller offers a full array of gaseous systems to adapt to the unique requirements of protecting life and property at sea in many marine fire protection applications.
Fire Detection Systems
Fire detection is a critical step in marine fire prevention. A properly functioning, well-maintained fire detection system can reduce or eliminate a risk before it becomes a problem. Within the marine environment, there are many types of hazards and applications that require a thorough understanding of the regulations and technology to give the best protection. The Hiller Companies has decades of experience along with the technical capability to design, install and maintain a full spectrum of fire protection systems and keep them in peak condition. Fire detection options include: flame detection, heat detection, smoke detection, air sampling, cable and digital sensor linear detection.
Dry Chemical Systems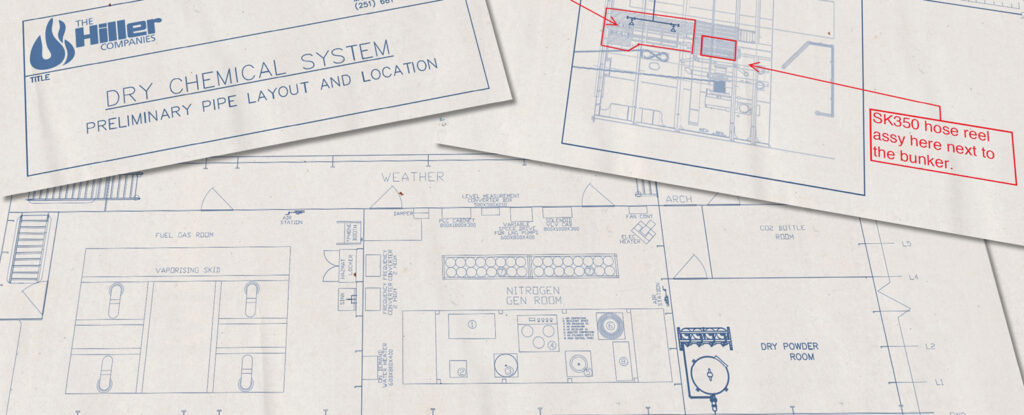 Demand for liquid natural gas (LNG) continues to rise and the use of LNG as a marine fuel is becoming more popular as well. The need for effective fire suppression and containment at every point in the process is critical for safety. The Hiller Companies has extensive experience with marine dry chemical fire suppression, particularly for LNG applications.
Gas Detection Systems
Without warning, gas leaks can put personnel and assets at risk quickly. Effective gas detection systems are critical to the process of containing toxic and combustible gases immediately. From portable gas detection to fixed monitoring and sampling systems, The Hiller Companies has the solutions to protect marine environments and staff from this invisible hazard. Hiller offers detection systems for LNG, carbon dioxide, oxygen, hydrogen sulphide and other gases. Our LNG detection systems are in compliance with the requirements of the International Maritime Organization (IMO), United States Coast Guard and classification societies for LNG-fueled vessels. Hiller works with some of the world's most respected detection manufacturers and can design, install and maintain customized gas detection systems across all marine fire protection applications.
Galley Wet Chemical Systems
The galley may be the most fire-prone place on a vessel. The Hiller Companies offers flexibility and ease of design and installation utilizing wet chemical systems, which provide total extinguishment and prevention of re-flash in protected galley areas. Required by the International Maritime Organization (IMO) for deep fat fryer protection, galley wet chemical protection systems provide fast flame knock down and securement. Our systems also comply with United States Coast Guard Navigation and Vessel Inspection Circular and IMO guidelines for the protection of all galley appliances, fryers, exhaust ducts, hoods and more. On-board recharge capabilities minimize loss of productivity in the event of discharge.
Teekay Couplings
Teekay Pipe Couplings, distributed exclusively in the U.S. by The Hiller Companies, have a savings solution that fits your needs. By simply butting two pipes together and connecting with a Teekay Pipe Coupling, space, weight, time and cost savings are achieved with every installation. Their superior design is uniform whether they're working with a Navy combatant ship or an offshore supply vessel.
Marine Inspection
Inspection is one of the most important elements in maintaining safe and effective marine fire protection. Knowing that equipment is operational and fully charged at all times brings assurance of fire safety and preparedness in the high-risk marine environment. The Hiller Companies provides annual inspections in accordance with the requirements of the United States Coast Guard and classification societies. Our services include troubleshooting and repair, recharging, air sampling and training. Hiller's experienced technicians are able to service systems from the most advanced to the most outdated. All personnel are factory-trained by leading manufacturers to ensure that your marine fire protection equipment stays in-specification and top condition. We can also provide long-term maintenance agreements and fleet-wide, all-inclusive service programs.
Offshore Inspection
The Hiller Companies provides annual inspections in accordance with the requirements of the United States Coast Guard and classification societies such as ABS and DNV GL. We can provide troubleshooting/repair, US Department of Transportation (USDOT)-approved pressure vessel hydrostatic testing and recharging, air sampling, and training. Hiller's experienced technicians are able to service systems from the most advanced to the most outdated. All personnel are factory-trained by leading manufacturers to ensure that your equipment stays in-specification and top condition. We can provide long-term maintenance agreements and company-wide, all-inclusive service programs which have minimal impact on your operations.
Offshore Navigational Lights
The navigation and marking lighting systems on offshore oil and gas platforms are complex and specialized. The Hiller Companies is dedicated to providing solutions, ensuring compliance and offering unrivaled customer care for all offshore navigational aid needs. An on-hand, dedicated Hiller staff with the technical, safety, and real life knowledge of the navigational aids industry will ensure current needs are met and help plan for future growth. Hiller has the experience to ensure compliance with national and international regulations.
Hose Reels
The Hiller Companies designs and manufactures a variety of customizable foam fire fighting stations capable of controlling fires and spills of flammable and combustible liquids. One person can easily operate the device to its full potential with the necessary speed and effectiveness to deliver foam to the required area in an emergency. This self-contained unit requires only water pressure to operate and is designed for installation in a fixed location such as processing, storage, or handling area. Hiller offers options for fully customizable stations as well as individual reels and stands.
Other Marine Fire Protection Services
The Hiller Companies has considerable experience developing custom solutions for the special applications and challenging requirements of commercial vessels, naval vessels and offshore platforms. Hiller has the in-house capability to integrate components, fabricate framing, and foundations and to build assemblies, such as actuation panels and equipment skids. This facilitates and optimizes the construction process by maximizing the amount of work and testing performed in the shop rather than on-site. We work with commercial marine standards (flag & class) on a daily basis and can accommodate all construction, inspection and certification requirements. With a working knowledge of military standards and the demands of naval vessels, Hiller can furnish systems that comply with MIL-SPEC shock, vibration and EMI requirements. Hiller also regularly builds products that meet stringent military welding standards as well as those of commercial marine regulatory bodies.
Hiller also offers the following products and systems:
Hose Reels and Foam Fire Fighting Stations
Cargo Hold Smoke Sampling Systems and Service
Oil Mist Detection Systems and Service
Security Systems
Naval Magazine Sprinkler Panels & Systems
SCBA Control Panels and other custom panels
Fire Shop Services
Life Safety Equipment
PAGA Systems
When it comes to fire protection for the marine and offshore environments, Hiller can find a solution for any fire hazard. Decades of experience in design, installation and maintenance provide Hiller with the knowledge and know-how to customize a fire protection system from detection to suppression to keep personnel and assets safe and operational.
Commercial Workboats (tugs and barges, OSVs/PSVs, ferry boats, etc.)
Ships (all types)
Oil Rigs and Platforms
Other Offshore Facilities
Naval Ships (Combatants and Non-combatants such as Military Sealift Command)
Government Ships (US Army Corps of Engineers, Municipal Law Enforcement, etc.)
United States Coast Guard Boats and Ships
More Information